All About Robin
---
So, on this page, I'm going to share with you some basic information about who I am, what I'm doing, my hopes, my dreams, (okay, so maybe not that, I have to have some secrets!) but some general things that may be of interest to those who want to know more about my crazy mind!
First off, my name is Robin and if you've somehow wandered into this website, thanks for caring enough to spend some time looking around. And you're one of my friends, you should know most of this stuff already, so you can probably skip this section. If you do read this though, and there is something that I write that you didn't already know, you cannot be considered one of my friends.
I am currently 19 years old and living in Evansville, IN studying at the University of Evansville. Anyway, I'm here, when my home of Jamestown, PA is over 8 driving hours away. I miss my town. No matter how much people make fun of it because it only contains 850 people, it's still full of some awesome friends. You want to know more about what's going on around Jamestown? You can peruse this site. I do realize that it covers the lake near my house, but if you haven't been to Pymatuning Lake, you need to go there at some point in your life. And, that lake is very important to me, because I worked on that lake at the Causeway Marina for the past 2 summers of my life counting earthworms. Trust me, it grows on you. If you want to see a not quite as good website on Jamestown itself, you can go here. But, you can also go to that site just to make fun of it. I do. So, I think that covers where I'm from and what I'm doing.
As for who I am, that could take forever. I'll try to shorten it to a few key lines (or paragraphs). I am a fun loving college freshman who meets the most wonderful people wherever I go. Which is many places, because one of my big hobbies is traveling. Which makes sense, because I want to be an archaeologist. I'm not quite sure what kind yet, but when I know, you'll know.
I do love movies, as you a bound to be able to tell from the pages devoted to movies and movie quotes. My friend Tacia and I can spend a whole day just quoting from movies. Trust me, we've done it before. We're sad that way.
I like to read too, when I have the time. My favorite author of all time is Clive Cussler, but I also enjoy Agatha Christie, Mary Higgins Clark, and any sort of smut book. Although, I haven't gotten to read good smut in a while, since I'm not at home and I don't have Tacia's mom to supply me. Oh well. My other somewhat reading obsession is that I absolutely love the comic Foxtrot. I have to check it out every day and I have all the treasuries that have been made. I used to have the daily calendar, but they stopped making it. Dumb advertising people...
I do like music too, and I have very eclectic tastes, some of the most eclectic around. My music ranges anywhere from A Perfect Circle to Barenaked Ladies to Jimmy Buffett to Violent Femmes to Oldies. Like I said, very eclectic. But, my main interest in modern rock, the variety of Matchbox 20, Vertical Horizon, Shades Apart, and 3 Doors Down. (At least, that's what's on my playlist right now!)
Besides that, if you want any other info, wait for me to update the site. Oh yeah, if you have an idea for something that you would like to see here, email me.
---
Pictures
First off in the picture section, here's a picture of me and my bestest friend in the whole wide world, Tacia.
(I'm on the left.)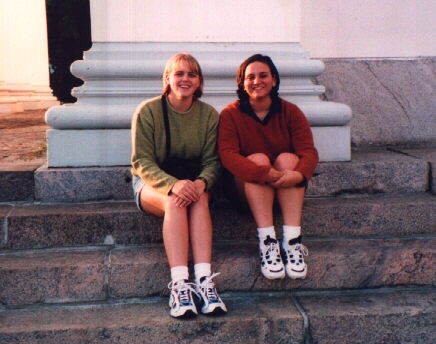 Okay, so it's an old picture from almost two years ago, but I don't have access to a scanner and it was one of the only pictures that I had on disk with me. Tacia, don't complain. Tacia, I told you not to complain!
---
My next picture is going to be of the "gang" from high school. (Also, one of the few pictures that I have scanned and with me at college, thus why an older picture is on this site. But, I did realize that I do have access to a scanner nearby and am currently working on getting some more pictures scanned. Not like you care at all, but hey, I thought I'd keep you informed.) So anyway, this picture features the "gang" on the night that my friend Emily and I were both up for fair queen. Granted, neither of us won, but we do look damn good.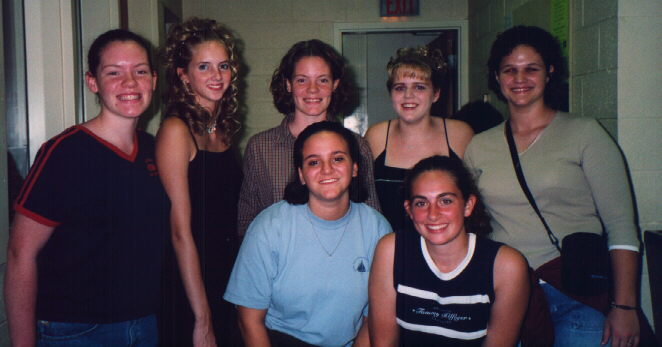 [ Home ] [ Movies ] [ My Travels ] [ Quotes ] [ All About Robin ] [ A Late Night at UE ] [ Archaeology Project ] [ Links ]

Email Robin